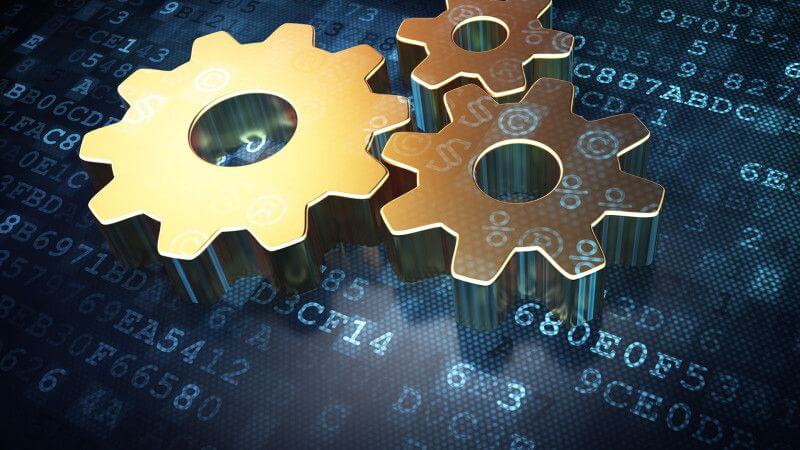 Choosing the best web hosting provider is the most challenging part of creating a website. If you want to make your website live, then you should depend on a web hosting provider to make that possible.
Let me tell you one thing: If your hosting service is not able to provide an excellent service to your website, consider that your website is dead. Because your web hosting service can make a positive or negative impact on your website performance and search engine optimization. If your website is lacking these two major things, then no one will visit your website.
Quick Read: Please Don't Register a Domain Name without Reading This
If you are seeking out a web hosting provider that offers premium quality of service, website performance, support and hosting features for a reasonable price, you can consider that you are on the right track!
You can find many hosting providers that claim that they are the best hosting provider in the world 🙂 It's amusing, right? Maybe all of them are best. Today I'm going to help you to choose the best among them. Now let's find out how we can choose the best hosting provider.
Qualities of a Best Hosting Provider
For providing better hosting experience, every hosting provider should follow certain qualities or standards. If your hosting provider is claiming that they are the best, then make sure that they have the following qualities that every best hosting providers should have:
Server Uptime
Uptime shows the time that your hosting server is up and running without any issues. The primary quality of the best hosting provider is to provide 100% uptime to your website. If they are providing 100% uptime, you can make sure that they are having the right hosting architecture to make your website online at all the time.
If your hosting provider is having more than 99% of uptime, you are guaranteed that your website will be online 24/7. Now check out this image that shows the mathematical calculation for Server Uptime: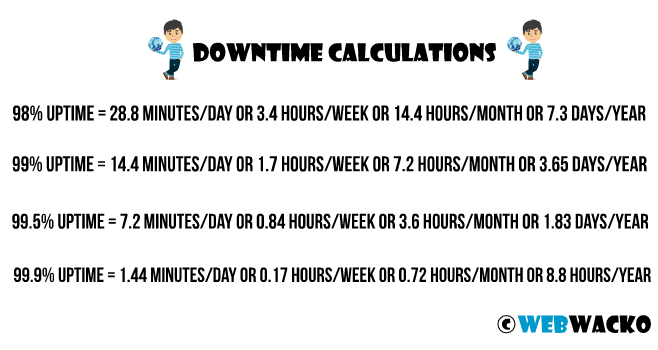 Monthly Bandwidth
Bandwidth is the amount of data transfer carried out by your server and website visitor. For example, let's consider our homepage size is 1MB, so when a visitor visits your homepage, you will lose 1MB of bandwidth. That means, if 100 visitors visit your homepage daily, then you need 100MB bandwidth on a regular basis. Therefore, you should ensure that you have enough bandwidth for your website.
Most of the web hosting providers allow unlimited bandwidth. Even though they are saying unlimited, there will be a hidden restriction. So, It is always good to choose a most suitable hosting package for your website based on the estimated number of visitors you are getting daily/monthly.
Disk Space
Disk space is the amount of storage space in which you can store your website files on the server. Here you can store your website script files, images, texts, videos, audios, etc. Disk space utilization entirely depends on the size of your website files. While purchasing a hosting package, they will clearly mention the total storage space that you will get. Now most of the top hosting companies provide unlimited storage space.
Just like bandwidth, unlimited doesn't mean you are getting an unlimited size to store all your files! If you are legitimately utilizing your hosting space, then the size won't be an issue. To avoid storage related issues, avoid misusing the storage space by storing big files like movies, videos, software, etc. and it is always good to go with a web hosting service provider that gives you unlimited storage to your website.
Disk Type: HDD or SSD
A disk is a hardware device that is used to store and serve your website files. Disk are of two types; HDD (Hard Disk Drive) and SSD (Solid State Drive). The traditional web hosting companies are using HDD or hard disk drive to store the website files.
Modern and excellent hosting companies provide SSD hosting for their customers. Because hosting disk has a significant role in the overall performance of the website. You know why? Read my comparison article on SSD vs. HDD hosting.
Security
Security plays a significant role in web hosting service. If your web hosting has a fully secured environment, then half of your security related issues are resolved. Most of the websites are running on the shared hosting environment. That means all the resources and hardware are shared between you and other customers. Because of this, if some vulnerability or hacking related issue happens on any customer's website, there is a chance to spread these problems to your website as well.
Even if your website is secured, there will be a chance to get troubles from other websites that are hosted on the same server. But, if your web hosting provider has the modern security measures and firewalls, these kinds of hassles can be avoided. Hence, before choosing a hosting service, please make sure that they are providing a suitably protected environment to your website.
Inode File Limitations
Inode file counts the total number of files that you are using in your whole web hosting account. Most of the time, this Inode file limitation will never be mentioned in the hosting package details. You may see this restriction only after you purchase the hosting and logged in to your cPanel. I faced this issue from many web hosting providers.
Overusage of Inode files will result in immediate account suspension. The leading web hosting providers like Godaddy, Hostgator, Bluehost has Inode restriction. But, I'm happy to say that Inmotion Hosting doesn't have any strict restrictions on Inode file count. This is also a unique feature that Inmotion Hosting has from their competitors.
Extra Features and Ease of Use
Many of the traditional hosting services are not user-friendly. For example DreamHost. I left DreamHost only because of this user-friendliness. DreamHost doesn't have a cPanel, and they are using their control panel to manage web hosting. I felt it very hard to use their control panel. I think they are making the features more complicated. But, please note that I'm not mentioning their hosting service is bad.
It's their hosting control panel that I found difficult to use. I recommend you to proceed with the hosting company that provides better features like cPanel and easy-to-understand account management portals.
Customer Care Support
From my point of view, this is the most important quality of a best web hosting provider. If your hosting provider is best in customer service, then your most of the problems can be resolved without any headaches. Most of the smart and efficient hosting companies have good customer care that responds to your needs within few minutes.
Let me tell you my experience with HostGator, If you want a reply from HostGator's chat support representative, you may need to wait minimum 2 hours for their response 🙂 This is not acceptable! For example, if our website has been hacked and you need to temporarily shut down the website immediately. What will you do? Wait for 2hours?? So, think twice before choosing a hosting that is poor in their customer care.
Personally, I feel Inmotion Hosting and Namecheap are the best in customer service. I'm not using Namecheap for hosting. But, I tried it once, and I'm not satisfied with their hosting service for many reasons. But, their customer care is just outstanding.
Pricing After First Billing
I know everyone likes discounts. I too like discounts. Will you buy a bad product that gives you 80% discount? I won't buy it. Because quality comes first rather than money. You also need to think like this to avoid future issues like long website downtime, account suspension, etc. in future.
If you don't have enough money to start a website, then don't start! Wait until you get enough money to afford a good hosting service. Never look for the discounts and the initial offers. Look at the features, and quality of hosting service, then make a decision.
Many of the big companies like Godaddy, HostGator give huge discounts in the first billing. But, after the first billing, you may need to pay a big amount. If you can't afford that pricing, you will try to migrate your website to the next hosting provider that gives you more discount. In the meanwhile, you may suffer many issues on website migration. Why these kinds of mess? So, check and compare the regular pricing of the hosting packages and come to a decision. Don't get stuck in the web hosting issues in the future!
Quick Read: Do I need a website? Caution: Think Before You Start!
Conclusion
Finding a best hosting solution is not a big thing. But, finding the best and reliable hosting provider is a hard thing. Because there is a lot of tight competition is occurring on the internet. If you want to get the best hosting provider, try to consider the suggestions mentioned above to avoid confusions. So, think twice before selecting a hosting service for your website. If you are having any issues, feel free to comment below. Surely I'll respond to your comments.
Get Free Consultation on Choosing a Best Hosting Provider/Package for Your Website:
Post your queries for free on WebWacko Hosting Forums and Get Response from Experts!